11 Dec

4 Wonderful Benefits You Can Get With Physiotherapy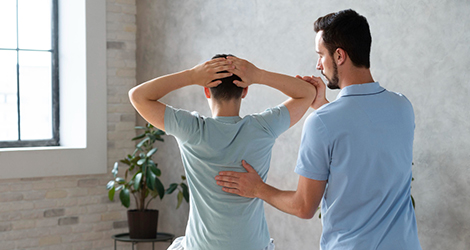 Nowadays people are suffering from a common challenge that is pain and ache in the body; it can be caused by injury in sports or mishappening like an accident on road. In most cases, sitting for long hours is the reason behind back or spinal pain. Due to busy routines, people are not able to take out time for exercise and workout. Even a resting body is not safe from ache and pain.
Physiotherapy can give a effective and long-term solution that can help in relieving pain and ache.
Here are some benefits of physiotherapy for your mental, stressful and challenging life and health:
Physiotherapy gives slow and steady relief to the body
Physiotherapy has a distinct advantage in relieving pain in the whole body. In fact, a professional physiotherapist has a broad vision to recommend a patient the right treatment solution. Physiotherapy soothes your muscles and nerves and your entire body seeks benefits that may help you in operating and moving towards where you want to move and go.
Balance of the body can be taken by physiotherapy
Physiotherapy helps in restoring a balanced, and sustainable emotional mental state, that is why the people like to consult a physiotherapist and take a proper solution.
Physiotherapy recommends doing simple and easy exercises
To get up in the early morning and going for a walk, stretching and strengthening the muscles give a lot of amazing benefits. To get more benefits, you can bend your head till your knee and stay in the same position for approximately fifteen minutes. This physiotherapy exercises help in blood circulation and gives the power to your heart.
Physiotherapy exercise helps neurological disorder victims
With increasing age, a person begins to face several difficulties that increase neurological disorders like Parkinson's disease, Chronic Fatigue, Dementia, Paralysis, etc. Physiotherapy is a good way to reduce the risk of these challenges and problems.
These are some benefits; those can be enjoyed by undergoing a physiotherapy treatment. It keeps you active and healthy. If you want to undertake a physiotherpay session in Etobicoke, feel free to schedule an appiontment at Etobicoke SportMed and Physiotherapy.