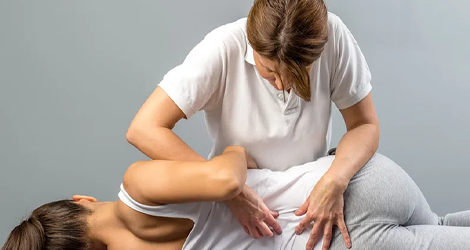 Are you suffering from neck, shoulder, or back pain? If so, then it may be time to seek chiropractic care from a trusted chiropractor in Oakville, ON, or the surrounding area. After all, ignoring this pain or simply hoping it will go away in time isn't a good strategy and can lead to even worse problems down the road.
Here at Bionic SportMed & Physiotherapy, we specialize in providing the highest level of chiropractic care, offering a wide range of services to help you lead a life free of persistent back and neck pain.
Back Pain Treatment
Back pain can be caused by any number of factors. For many, simply spending too much time on one's feet without the proper foot support can lead to back pain. For those who work desk jobs, having a desk chair without the necessary lumbar support can also lead to problems with spinal compression and pain.
The goal of our team is to begin by getting to the bottom of what's causing your back pain. From there, we can work to come up with a customized treatment plan that may involve anything from massage therapy and spinal adjustments to spinal decompression therapy and everything in between.
Benefits of Chiropractic Treatment
Countless patients in Oakville, ON, and the surrounding areas choose Bionic SportMed & Physiotherapy for their healthcare because: